Towns Near By
| | |
| --- | --- |
| Rainbow Beach | 31 km |
| Inskip Point | 41 km |
| Gympie | 57 km |
| Maryborough | 71 km |
| Caloundra | 99 km |
| Brisbane | 219 km |
In Tin Can Bay
| | |
| --- | --- |
| Crab Creek Boat Ramp | 750 m |
| Tin Can Bay RSL | 1.5 km |
| Cooloola Coast Medical Clinic | 2.5 km |
| Tin Can Bay Marina | 2.5 km |
| Norman Point | 3 km |
| Cooloola National Park | 3.5 km |
| Cooloola Shopping Centre | 6.5 km |
| Tin Can Bay Yacht Club | 3.5 km |
| Great Sandy National Park | 32 km |
| Foreshore Bird Walk | 200 m |
Where to Eat
| | |
| --- | --- |
| Temptations by the Water | 750 m |
| Marina Bar & Grill | 2.5 km |
| Tin Can Bay Country Club | 3 km |
| Barnacles | 3.5 km |
| Tin Can Bay Yacht Club | 3.5 km |
| The Snack Shack | 2.5 km |
Find Us
11 Mitchell Street
Tin Can Bay, QLD [map]
Call Us
Phone: (07) 5488 0800
Email: info@tincanbaymotel.com.au
Reasons To Stay
| | |
| --- | --- |
| | Quiet retreat |
| | Friendly atmosphere |
| | Pet Friendly |
| | FREE WiFi |
| | All rooms are non-smoking |
| | All rooms are air-conditioned |
| | Swimming Pool and Barbeque |
| | Car, Boat and Trailer Parking |
| | Guest Laundry |
| | Family Rooms |
| | 2 mins to Town Centre |
| | Close to Medical Centre |
| | Close to Rainbow Beach and Great Sandy National Park |
| | Close to Fraser Island |
| | Only 2.5 hour drive north of Brisbane |
| | Only 1 hour drive south of Hervey Bay |
| | Only 45 mins drive east of Gympie |


Golf for Two in Beautiful Tin Can Bay
Only $270.00 for Accommodation and Golf.
Phone 07 5488 0800 to book now.
Stay three nights (for the price of two) with us at Tin Can Bay Motel in one of our clean and airy self-contained units.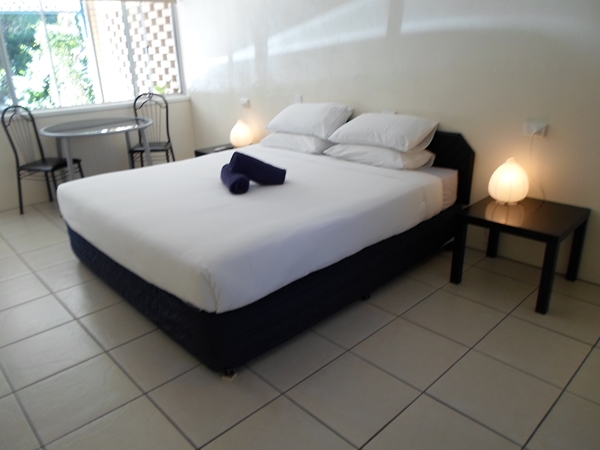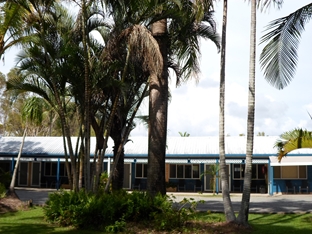 A round (18 holes) of golf for two people and the use of a motorised golf cart while playing that round of golf at the Tin Can Bay Country Club Golf Course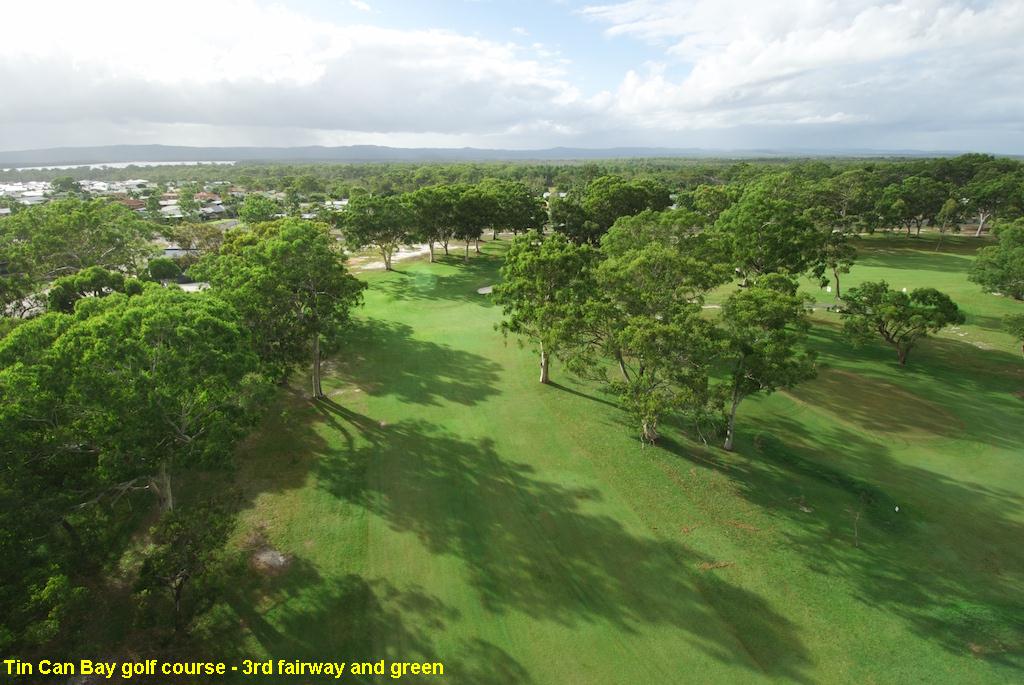 Example Itinerary - Step off the fast lane, relax and enjoy the quiet waterfront town of Tin Can Bay and surrounding neighbourhood..
Day 1
Take a leisurely drive from your home to beautiful Tin Can Bay. Book in to Tin Can Bay Motel and enjoy the quiet surrounds. Book in time is 14.00 but you can contact us to see if your unit is ready earlier. Take a stroll along the Tin Can Bay foreshore walkway taking in the waterway view and the bird life. It is a short stroll to Temptations on the Water for afternoon tea and you will receive 10% discount when you show your key.
We can book you in to any one of a number of restaurants for dinner:
The Tin Can Bay Country Club, Open 7 days, with a free courtesy bus available for pick ups and drop offs.

The Marina Bar & Grill Open Tuesday to Saturday

Tin Can Bay Yacht Club Open Thursday to Saturday for meals, bar 7 days.

And more … we will go through the map on your arrival.
Back to you unit to rest and recreate.
Day 2
Up bright and early and off to Norman Point for the Dolphin Feeding. The dolphins arrive between 7.00 and 7.30 (ish) and feeding is at 8.00 (ish) AM. You can breakfast at Barnacles or you could go to Temptations on the Water around the corner from us.
At your leisure, a short drive to the Tin Can Bay Country Club for 18 holes of golf. The course is very well kept and we hope you have a top score. Dine at the club or we can book any one of the abovementioned venues for you. We have a barbeque for you to enjoy if you wish… there is a butcher and an IGA store at the shopping centre in town and a Woolworths at near-by Cooloola Cove.
Day 3
A nice sleep in and then breakfast in your unit or at one of the lovely venues in Tin Can Bay. Explore our neighbourhood. Take a drive to Gympie perhaps, stopping at Silky Oak along the way for a cuppa. Alternatively, a short drive to Rainbow Beach and explore the rainbow sands and have lunch at one of the beach cafes. Another option is a drive to historic Maryborough or perhaps you would like us to book us on a day tour of Fraser Island. The choices are endless.
Return for night three at Tin Can Bay Motel and check out is not until 11.00 am so you can enjoy Tin Can Bay for a bit longer before you return to your home.